Femtocataract Laser Surgery – Precision that changes everything.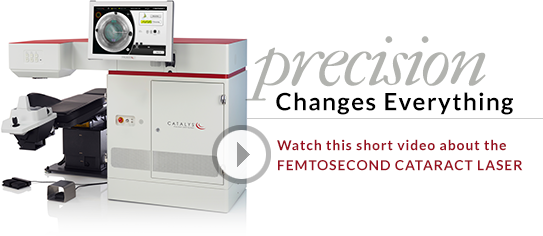 UNPARALLELED ACCURACY
The Femtosecond laser offers unparalleled accuracy and precision that allows our surgeons to treat even small amounts of astigmatism. Using the laser during cataract surgery increases your chance of an excellent refractive result following surgery. With or without a premium IOL, you may significantly reduce your dependence on glasses to achieve your best vision.
CUSTOMIZED FOR YOU
Like a fingerprint, your eye has a unique size and shape. Prior to treatment, the laser images your eye and makes precise 3D maps of relevant structures. This enables our surgeons to create a tailored treatment plan that is customized for you.
The Femtosecond laser creates a perfectly sized, shaped and centered circular opening (capsulotomy) to access and remove the cataract. This precise incision helps our surgeons place the artificial lens exactly where intended.
GENTLE PRECISION
Softening the lens with the Femtosecond laser enables our surgeons to remove the cataract with significantly less ultrasonic energy than used in typical manual cataract surgery. This gentle, low energy approach reduces inflammation and helps speed recovery.
E.S.S.I. is pleased to offer this customized treatment option to our surgeons, including precise laser treatments and premium lens implants. These advances have been designed to eliminate or minimize your dependency on glasses and contacts following surgery.
BENEFITS OF LASER CATARACT SURGERY:
• Unparalleled precision in treating astigmatism
• Individually optimized 3D mapping
• Treatment with little to no discomfort
• Gentler, easier cataract removal
• Reduced inflammation for improved visual recovery time